Desserts have the power to brighten up your day. 

Desserts make you swoon and are your best BAE.

World's BEST Desserts make me want to sway!
What's for dessert?
Whether you are slurping noodles in China or devouring smoked salmon in America, the first question that arises after every savory feast is "What's for dessert?"
We'll always love a classic Jalebi Rabdi or a Red velvet Cheesecake. Ain't that true?
Treat me to one of these and I will gladly become your best friend!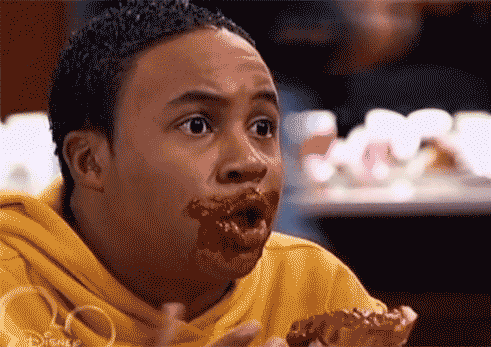 Sponge cake soaked in condensed milk and heavy whipped cream?
Yes, please! 
Caramelized, sprinkle-coated dark chocolate balls?
Bring it on! 
Best desserts in the world?
Just stop talking and show them already!
Indeed, the dessert shops inspire you to throw out all the rules and surrender to sugary bliss, no matter what the time of day is. This list of the best desserts in the world will have you scheming your next culinary escapade.
Are you ready to challenge your taste buds?
14 Best Desserts Around The Globe
Here are 14 best desserts from around the world that every sugar lover has got to try or at least dream about! 
Whether as an antidote to a long day of exploring or a quick pick-me-up between sightseeing stops, these sweets can define their destination in just one bite.
Warning: Get your favorite dessert by your side because this list is going to give you major dessert cravings!
Brigadeiros: From Brazil
Brigadeiros are more than just a ball of chocolate fudge. Also, they are very similar to chocolate truffles.
This delectable looking chocolate dessert is made from sweetened condensed milk, butter, and cocoa powder. 😋
After completion, the balls are rolled in chocolate sprinkles to give it a different texture. Moreover, from north to south Brazil, it is a national passion!
Want to treat yourself to this yummy dessert? Take a look at this quick and easy Brigadeiro's recipe.
The best place to eat Brigadeiros in Brazil: Dr. Brigadeiro, Rua Visconde de Piraja 188 G, Rio de Janeiro, State of Rio de Janeiro 22410-000, Brazil
---
Milk tarts: South Africa
Learn to make Milk Tarts in its traditional way!
It is one of the scrumptious but most easy desserts present around and extensively famous in South Africa. This creamy custard is made from milk, sugar flour, and eggs.

Correspondingly, it is a little reminiscent of custard pie but more delicate, with a lighter texture and a strong milk presence.
The invention of the amazing dessert goes all the way back to the 17th century. Also, the gracious amount of Cinnamon spread on top is the result of South Africa's trade with Indonesia.
This easy dessert recipe of Milk Tarts is sure to make your taste buds go swoon!
The best place to eat Milk Tarts in South Africa: The Whippet, 34 Seventh Street, Linden, 2198 Johannesburg, South Africa.
---
Baklavas: Turkey
Baklava is the first and most authentic type of Mediterranean sweets. It embraces hundreds of years of passion into every single piece. Furthermore, it was first created by Assyrians in the 8th century.
This filo pastry is made by paper-thin layers of phyllo dough encasing chopped nuts, roasted to perfection, and drenched in syrup or honey.

Such dessert dishes are basically considered a treat for wealthy people. One of its secrets is the amount of sugar syrup to add to it. The right amount will give it a sweet taste while keeping the taste of nuts and dough in perspective.
Need out-of-the-box dessert ideas to impress your family or friends? Check out this traditional baklava recipe!
The best place to eat Baklavas in Turkey: Karakoy Gulluoglu, Mumhane Cad. No. 171 Karakoy, Istanbul 34425, Turkey.
---
Tres Leches Cake: Mexico
Track the recipe of Tres Leches Cake
Also called Three-Milk Cake, Tres Leches Cake is a dense, moist "three milks" cake topped with a cloud of vanilla whipped cream.
What makes it unusual is that after baked, it is perforated and soaked in a mixture of 3 types of dairy: evaporated milk, condensed milk, and cream.
The three kinds of milk, when combined, create just the right sweetness, density, and mouthfeel for a rich cake, making it moist but not mushy. Adding to this, its invention is not very clear, but one of the arguments is that the dessert recipe was first printed by Nestle Corporation on cans of condensed and evaporated milk in order to increase the sales in 1940.
Searching for delicious desserts to make at home? Take a look at Tres Leches Cake recipe!
The best place to eat Tres Leches Cake in Mexico: Pasteleria La Ideal, Av. 16 de Septiembre 18, Centro Historico, Mexico.
---
Apple Pies: United States of America
This dessert is truly American in nature. Apple pieces wrapped in a flaky crust. This tasty dessert is extremely popular down States and consumed mostly during breakfast. It can either be served with whipped cream, vanilla ice cream or even cheddar cheese.
The pastry is generally used top and bottom, making it a double crust pie.

The upper crust may be circular or a pastry lattice woven of crosswire strips. The apple pie is one of the United States' signature comfort foods and fun desserts.
Swear by this Apple Pie recipe and celebrate your Sunday American style!
The best place to eat Apple Pies in the United States of America: Pie Lab, 1317 Main Street, Greensboro, AL 36744.
---
Gelato: Italy
No matter the season or region, there's one Italian dessert that never fails to please – Gelato. This is a softer and creamier version of an ice cream. These are pretty famous on the streets of Italy and are available in a variety of flavors.
Some of the flavors available are chocolate, pistachio, caramel, bubblegum, banana etc.
People usually prefer eating this because of its distinct texture.
The best place to eat Gelato in Italy: Gelataria I Caruso, Via Collina 13/15, a 10-minute walk from the Repubblica Train Station.
---

Banoffee pies: England
Pamper your tummy with really awesome Banoffee Pie!
This pie is the mixture of all the goodness that a dessert lover can ask for.
The word banoffee is an amalgamation of banana and toffee, a heavenly combination for all with a sweet tooth.
Banoffee pie is an English dessert made from bananas, cream, and toffee combined either on a pastry base or one made from crumbled biscuits and butter. Some versions of the sweet recipe also include chocolate, coffee, or both.
Wondering how to prepare the perfect classic banoffee pie? Here is your go-to delicious Banoffee recipe!
The best place to eat Banoffee Pies in England: The Harrison, Bloosmbury, 28 Harrison Street, London WC1H8JF.
---
Belgian waffle: Belgium
Good desserts come in all shapes and sizes. And Belgian waffles are no exception! Belgian waffles are a variety of waffles with a lighter batter, larger squares, and deeper pockets than ordinary American waffles.
They are usually consumed as a street snack in Belgium.
It is gaining massive popularity in other countries too. These are made from leavened batter or dough that is cooked between 2 plates to give it a distinctive criss-cross pattern. On top of that, it tastes best when served with Nutella, whipped cream, strawberry, or maple syrup.
Want to indulge in waffles that are super crisp on the outside, light as a feather on the inside, and scrumptious overall? We are your saviors! Follow this Belgian Waffle recipe to a T and you are good to go!
The best place to eat Belgian Waffles in Belgium: Maison Dandoy – Tea Room, Rue Charles Buls 14, Brussels 1000, Belgium.
---
Gulab Jamuns: India
This is one of the favorite Indian desserts! They simply adore it. It is as sweet as a crisp hole-less donut dipped in sweet sugary syrup. Gulab Jamun is traditionally made with milk powder, milk solids, freshly curdled milk, and fried with ghee.
Moreover, Indians consume it during special occasions and festivals or simply when they crave for it.
Gulab jamuns are best enjoyed warm with vanilla ice cream. Usually, they are often garnished with dried nuts like almonds to enhance the flavor and add a crunchy dimension to it.
Have a bite and you'll know why so many Indians crave for this heavenly and delicious dessert. The outcome of this Gulab Jamun recipe will make you change your list of amazing desserts!
The best place to eat Gulab Jamuns in India: Baljees Restaurant, 26 The Mall, Shimla 171001, India.
---
Chocolate soufflé: France
Check out the mouthwatering recipe of Chocolate Souffle!
This lightly baked dessert is made up of lightly baked eggs comprising of egg yolks, beaten egg whites, sugar, and a gooey chocolate interior. This is one of the toughest to make as it has to be served immediately. If not, it becomes extremely dense and hard.
In France, it is often mixed with Orange liquor to give it a citrusy flavor and richness. With a drizzle of chocolate sauce over the top, light-as-a-feather chocolate soufflés are pure indulgence.

Light and not too sweet, chocolate soufflés are a perfect dessert for any special occasion. Try it out for yourself with this yummy Chocolate soufflé recipe!
The best place to eat Chocolate soufflé in France: Le Soufflé, Concorde / Madeleine, 1er, 36 rue du Mont Thabor, 75001 Paris, France.
---
Crème Brulee: France
Popularly known as burnt cream, Crème Brulee is a delight for people who fancy caramel. It consists of the base of rich caramel custard and topped with hard caramel. It is a unique mix of hard and soft texture.
Can you believe Crème Brulee is made just by mixing cream, egg yolk, sugar, and vanilla?

These five simple dessert ingredients make for an exquisitely rich and elegant crunchy and custardy delight. This vanilla and caramel rich dessert is deliciously decadent.
Try out this quick Crème Brulee recipe and satisfy your dessert cravings with no much efforts!
The best place to eat Crème Brulee in France: Le Potager du Pere Thierry, Montmartre, 18eme, 16 rus des Trois Freres, 75018 Paris, France.
---

Mochi: Japan
Know more about Mochi Ice Cream
Mochi is one of Japan's most loved treats. These are extremely colorful in nature and looks quite vibrant.
They come in various colors, forms, shapes, flavors, and sizes, but common to all is their distinct characteristic of having an often-sweet center. 
Moreover, Mochi is nothing but glutinous rice pounded into paste and molded into a circular shape. Sometimes it's hard as a rock, sometimes it's soft and gooey. Japanese celebrate their new year by having this scrumptious dessert. Serve Mochi with a scoop of ice cream to relish it fully. 
The best place to eat Mochi in Japan: Seigetsudo, 7-16-15 Ginza Chuo Tokyo.
---

Basbousa: Egypt
Learn to make yummy Basbousa!
Basbousa is a traditional Middle Eastern sweet cake. It is found all over the middle-east, mostly in Egypt.
Made from semolina, eggs, butter, and coconut, this dessert is soaked in sweet syrup after it is baked.
Some prefer Basbousa with rose water or orange blossom water, plus a blanched almond as garnish. Coconut is also a popular addition.
This Egyptian Basbousa recipe is incredibly easy to make. Make your loved ones fall in love with you by making them indulge in such sweets from around the world!
The best place to eat Basbousa in Egypt: Ahmed Hassanein Pastry, El Sahafa St. El Mansheya, Alexandria 21599, Egypt.
---

Oliebollen: Holland
Quick steps to make Oliebollen.
These are so oily that the name 'Oliebollen' literally translates to oily balls. Furthermore, it is a festive treat and consumed mostly during Christmas and New Year's Eve.
Oliebollen are basically deep fried donuts studded with raisins and currants and garnished with a generous dusting of powdered sugar.
Moreover, it is traditional to serve Oliebollen with coffee during this time of the year. Yearn for some sweet ideas? Want to try some fancy desserts of the world. Check out this Oliebollen recipe for your next dessert party!
The best place to eat Oliebollen in Holland: Lanskroon Banketbakkerji, Centrum, Singel 385-3, 1012 WL Amsterdam, The Netherlands.
How did you like our compilation of the best desserts around the world?
Let us know in the comments below which ones have you tried and which ones do you look forward to?